American School of Martial Arts is your place to go for Mixed Martial Arts.  See what our highly satisfied students and parents have to say:
"I would highly recommend American School of Martial Arts to others. I have a story that highlights the benefits my kids have enjoyed. Louis used to get picked on a lot, and would cry after school once or twice per week. On Tuesday he was talking about school and mentioned that he doesn't get picked on at recess any more. Had that been the end of the story I would have been happy and satisfied with the changes Louis has made, but there was more. He told me that he and his friend Eric have made a "team", and at recess they help out other kids who are getting picked on. I was concerned that he was getting physical with other kids and asked him to explain how he helps other kids. He said that the two of them walk over and stand next to the kid getting picked on and tell the bully to stop, and then they ask the kid that was getting picked on if they want to play with them (Louis and Eric) so that the bully wont come back. He said it has worked every time except for once. For me that is what defines success at American School of Martial Arts. Not belts or the mastering of an escape or submission, but learning right from wrong, respect for authority, and the confidence to stand up for your self and others."
-Jeff Wiley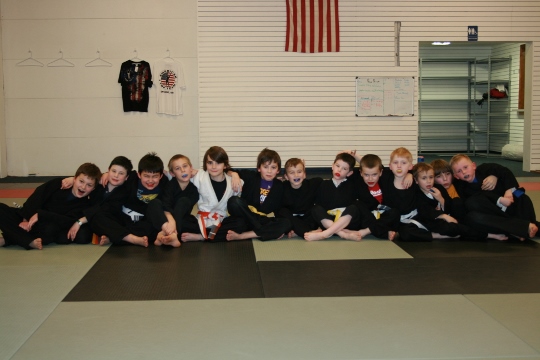 ---
---
---
---
---
---
---
---
---
---
---
---
---
---
---
"ATT Savage has given me the training to have confidence in combat situations. Whether you are training to fight, want to learn self defense or just get in great shape and learn a discipline in the meantime, ATT Savage has it all. The coaches and instructors are very knowledgable, with high level mma/jiu jitsu instruction, boxing, kick boxing and wrestling. If you put in the time you will learn the skills and the techniques that actually work in a fight."
-Jason Wong, Deputy Sheriff
---
"I wanted to take a quick moment to thank you for putting together and inviting me to the MMA workshop last Saturday. I really enjoyed it! I thought it was very informative. It was a great workout. It was one of the better seminars I have participated in, right up there with the Royce seminars. I feel the experience will really add to my training and confidence. Good work. I really appreciate it. See you soon."
-Tony Schaeffler
---
"MMA really toughened up our son. He is one of the fastest players in his hockey program, and is in by far the best condition of any of the players. He has no fear knocking down players twice his size. He's become quite good at defense. I've seen him step right in front of an 8th grader in full stride turn his hip and take him down. That takes guts! I'm sure it hurts too. He has no fear of tangling with people. Also he's a 4th grade kid who demands fruits and vegetables, including broccoli sprouts, and he drinks water instead of pop or milk even when pop is offered. Yep, he learned this stuff from you. Of course we reinforced it too. He's not the greatest athlete by nature. His nature is to be a computer and math geek, and MMA has given him confidence. Now he has the opportunity to compete at sports like hockey, I don't think he would have been able to compete without an MMA background. We've had a great relationship with ASMA and ATT and you will always be highly recommended by our family."
-Steve Olson
---
"Training with American Top Team in Savage has been one of the most rewarding physical experiences I have undertaken. As a former athlete I appreciate the challenge and physical nature of the training. As a middle school teacher, I have been impressed with how well the instructors teach to all abilities and levels. No matter what your past experience has been, the practical hands on instruction allows for the beginner as well as the more experienced members to learn and be challenged."
-Dave Standke, Teacher at Hidden Oaks Middle School
Prior Lake, MN
---
"In the unpredictable world of Law Enforcement, I have to be able to protect myself and be ready for anything. I train hard at ATT to be ready for when the unpredictable comes along."
-Brian Dressel, Police Officer.
---
"I have been at ATT with my boys for the past 2 months. I am 100% sold on the life lessons they are learning and the application this training makes in life and for the sport of hockey. It has especially hit me now due to the size, intensity and speed of the bantam game some of us are now watching. Some of the things learned are importance of 100% pressure, intensity, nutrition, how to fall, how to absorb impact, power, explosion, hand and foot speed, balance, discipline, respect, sportsmanship, and self defense. We do not like to talk about it and I hope it never happens but I have heard of bench clearing brawls in Bantam Mash games and even in older year AAA hockey games this summer. I know we all have aspirations of higher level hockey and there will come a day when they all will have to defend themselves in life from some bully or opposition force."
-Brian Hansen
Prior Lake, MN
---
"Thanks to ATT and my Thaiboxing class, after 4 weeks of training, my resting heart rate improved from mid 70's to mid 50's. My doctor is really impressed and so am I. This is the first time I have ever loved cardio! Thanks from the bottom of my heart :)"
-Alicia Ray
Shakopee, MN
---
"Caleb has been taking classes at ATT Savage for a while now. These classes have been very challenging for him both physically and mentally. He has never worked so hard to achieve a goal before, yet he has also never been so proud of his efforts either. His experience at American Top Team of Savage has left him feeling proud, confident, self assured, and he has a whole new respect for the value of hard work and discipline."
-Rich and Andrea Dean
Shakopee, MN
---
"I can't thank you enough for the difference that American Top Team has made with Louis. He has improved in his technique and ability. More importantly his confidence and self esteem is soaring. Even his grandpa and grandma have mentioned it. I was considering several options such as karate and other martial art studios close to my home in Jordan when a coworker suggested American Top Team. It was a lot longer drive but I decided to check out your gym. I am glad I did. Especially when talking to neighbors and friends who complain about how much of a money grab the belts are at those places. Even though it took Louis a bit longer to get his bars and new belt than other kids, he values his a lot more because he knows he earned it with hard work. If you ever need a recommendation for a potential client don't hesitate to give them my number."
Thanks, Jeff Wiley
---
"We really appreciate the great leadership and skills that you have taught Carlos in the last few years. He has become more confident, disciplined and is demonstrating leadership qualities that we believe were nurtured through training at your school."
-Irvin Pierskalla
Prior Lake, MN
---
"I particularly like your idea that protecting yourself from a bully is mainly a mental strength and not necessarily a physical one. Besides learning the moves, and disciplines of martial arts, I think my daughter has gained a lot of self-confidence and bullying is no longer a fear for her. It is not the sole reason she and her brother are in the class, but I have noticed a change in this area and I really wish you could help other kids in the community as well. Also, I have noticed Mr. Aasen is very good at motivational speaking."
-Maria K.
---
"I would like to thank you for your guidance and coaching, as in the short time that I have spent with your facility, I have absorbed more knowledge than I had at any facility I had previously trained with for longer extents of time. I truly believe your facility is one of the best, and appreciate the time spent training there. Thank you again for sharing your expertise with me, and if I ever return to living in the area, I will seek more knowledge!"
-Christopher Hoffarth
Eden Prairie, MN
---
"In one year at ATT Savage, I have met and exceeded my weight loss goals. I have not only cut the fat, but I have gained muscle. If you're looking for toned abs and arms, boxing and kickboxing are perfect. ATT Savage was the only place within 40 miles of us that offers true combat (person to person) training and self defense."
-Christine Neutgens
Waconia, MN
---
"Thanks for all the great training! I got more of a workout there in each class than I did in months worth of traditional martial arts training. Thanks too for letting me in a ring to get a real sense of realism to get hit. I had a lot of fun training."
-Cory Middendorf
Rosemount, MN
---
"Our family joined ATT Savage about four months ago after being 2nd degree black belts at another martial arts school. It was an extremely difficult decision to start over, but it couldn't have been a better move for our family. The emphasis on exercise, physical fitness, proper nutrition and doing what is right are awesome and our families habits have changed considerably and we are getting in better shape, we feel great and are learning some very practical martial arts and self defense. As a family with two daughters, we feel more at ease that they will be able to defend themselves if necessary. Our daughters testing for their first belt at ATT Savage was more difficult than any of their previous black belt tests, so when the test was over, they were very proud of themselves and we are very proud to be a part of ATT."
-Bill, Sun Ae, Jonna and Nicole Kolmer
---
"The time Griffin spent there this summer has really shown to improve his wrestling. He's a beast! His entire game has changed. We haven't had any issues with him smoking dope, his grades are good and his attitude has been in check. He's been thinking that he'll skip Freestyle/Greco this year and focus on BJJ and striking.Most of all I wanted to say thank you. The small amount of time we were there did make a huge impact. Can't wait to be back!"
-Tim Thorn
---
"I was first introduced to Eric and American Top Team of Savage on a Savage Chamber of Commerce Ambassador visit. From the first step I took into the gym, I knew it was different than other gyms I have been a member at in the past. There was so much passion and determination in the faces of all the students. I knew right then that I wanted what they all had. I went in for a trial Thaiboxing class and loved it. I joined the same day. I have never had such an incredible workout! I am seeing more results in my body than I ever have before. Eric is an incredible instructor. He pushes me further than I would ever push myself and believes in me. The students and fighters at the gym are so helpful as well. I would highly recommend this gym to anyone!"
-Tracy Bergland
---
"We cannot thank you enough for all of the great things you did for Jack. He is a completely different kid than he was three years ago. The things you taught him about recognizing the signals from his body and his brain have helped in every aspect of his life. Your training, combined with a number of other things we did for him, allow him to excel at school. Last June, he, for the second year in a row, achieved the highest math score on the state tests for Bloomington 4th graders. Without your help, he could not have sat still long enough to take the test. Thank you again."
-Kyle and Cindy Elbert
Bloomington, MN
---
"ATT Savage is a great place to train. Eric and the other students train for real life scenarios. They push you to your limits, even when you don't have the energy to do it yourself! It's a great workout that keeps you in shape and alert!"
-Megan Michalek – MN State Trooper
---
"Thank you for all that you teach our children. Your program has been a lifesaver to us. Discipline for the unfocused, confidence for the unsure, goals and respect. What great lessons for us all!"
-J Morris and Family
---
"American Top Team of Savage gives kids a comprehensive program of mixed martial arts while at the same time reinforcing the values that we, as parents, work so hard to instill in our children. What we really appreciate about how Eric runs his program is the way he incorporates the values of respect, discipline, nutrition and even patriotism into the classes. Not only do the kids get trained in several aspects of martial arts (self-defense, jiu-jitsu, kenpo) but they gain self discipline and confidence while having fun… ATT Savage is one place you can count on to reinforce important values to your kids while giving them excellent martial arts training!"
-Ellen and Bill Hackett
Prior Lake, MN
---
"My oldest son has attended ATT of Savage 3 times a week since January 2008. When he first arrived he couldn't stand still, had a difficult time focusing, and couldn't follow directions. He also had great difficulty connecting his mind and his body. The instructors at ATT Savage have taken time to work closely with my son, and when necessary, given him one on one instruction. Since enrolling, my son's personal development has been dramatic. He can focus, follow instructions, stand still, and his coordination has improved ten fold. ATT Savage stresses not just Boxing, Thai Boxing, Jiu Jitsu, and Kenpo, but also diet, exercise, manners, hygiene, values, self-discipline, goal setting, responsibility, self-confidence, respect, and judgment. ATT Savage helps children acquire critical life skills that are no-longer taught in school. ATT of Savage also helped him confront and stop repeated bullying without violence. ATT Savage is a great place for families and children to grow and learn together. My second son will enroll in November 2009 (he's too young now) and I look forward to a long relationship with ATT."
-Steve Olson, Savage MN.
---
"One of the best decisions I have made in my life was to join ATT Savage. Having something to do during the week that benefits me physically and mentally is something most of us miss the mark on. In a day and age of TV and Internet, I take much more comfort coming to ATT Savage to better myself and get in the game, and off the sidelines. The great part is there are class times all day, every day. I work an odd schedule and can always find a time to come in. The instruction is bar none the best I have had at any martial arts gym. You will be pushed, but only to what you can handle while still making significant progress. ATT Savage is also more concerned with building up their people physically and mentally than handing out belts for a fee to make themselves rich. Not only that, but ATT Savage has students putting their training into practice in competition every single month, and not only that but producing winning results in competition."
-Josh Boege
---
"The best thing that I can say about American Top Team of Savage is that it delivers what it promises. Discipline, focus, patriotism and fun. I appreciate the way ATT Savage staff has worked with my son. It is not an easy task to impart important lessons to a six year old boy, while keeping him engaged and entertained at the same time, but ATT Savage has certainly found the right balance between play and structure."
-Brian McDaniel
Apple Valley, MN
---
"Caleb has been taking classes at ATT Savage for about 9 months now. These classes have been very challenging for him both physically and mentally. He has never worked so hard to achieve a goal before, yet he has also never been so proud of his efforts either. His experience at American Top Team of Savage has left him feeling proud, confident, self assured, and he has a whole new respect for the value of hard work and discipline."
-Rich and Andrea Dean
Shakopee, MN
---
"Our three boys have been attending American Top Team of Savage for five years now. The school is very important to our family. Initially we joined ATT Savage because our son was having some behavioral issues in school. The school has helped to resolve some of the issues. Our son is able to take out some of his built up energy and frustration on the mats. Eric, one of the instructors, will take time out to talk to our son about his behavior and feelings. We have seen a definite improvement in his behavior thanks to ATT.
Due to school budget cuts, our 3 energetic boys, ages 7,8, & 11 only get two out of every ten days of gym at school. We feel that exercise is very important in a young boy's daily routine. Our children can attend ATT Savage 6 days a week and get a great workout.
The instructors have the patience and guidance skills that teach our boys lessons they will use for the rest of their lives. ATT Savage not only teaches them martial arts techniques and physical training, they show them self defense techniques. The children also learn respect for themselves, each other, their parents and teachers. They learn the importance of eating right and also learn self confidence. Our eldest son has used the self defense technique- the outside leg trip- which is a non harming/threatening technique to resolve an issue he had with a bully in school. The bully has since stopped bullying him."
-Joe and Leslie Letson
Savage, MN
---
"I first came to American Top Team of Savage looking for motivation for a great workout. Not only did I get all the motivation I needed, I met great instructors that have pushed me along the way to achieve my goals. I would recommend ATT Savage to anyone who wants to become a fighter, learn self defense or get the workout of a lifetime!"
-Andrew Bemis
Belle Plaine, MN
---
"ATT Savage teaches skills for life. If you are serious about self defense or competing, you have to give ATT Savage a shot. The hardest part is walking through the door for the first time. As a full time deputy sheriff, I have seen what works in real life scenarios and this is it."
-Deputy Todd Gefre
---
"Honest psychologists, those who aren't unduly concerned about political correctness and feminist wrath, will admit that there are many differences between the male and female psyche. One of those differences, and one that is overlooked all too often today, is that, although girls can grow up into women quite nicely all on their own, boys need men to teach them to be men. You may not list it on your website, and it may not be an intentional part of your curriculum, but helping to teach boys and young men to become men is an integral part of your program. The proof of that, for me, is the growth I see in my fourteen year old grandson in the few short months he's trained at American Top Team of Savage.
Casual observers may watch your classes and see only the martial arts techniques you so competently teach. They might even appreciate that these are skills all boys should learn. But they could easily overlook those less obvious yet equally important skills being taught, such as how honorable men compete and cooperate; how they correct each other and support each other; that men don't give up and that personal honor is important. These are skills for life, which men exercise in uniquely masculine ways and that boys need to be part of to understand and grow into. As a practical example, I'm continually impressed by the generosity of many of the more experienced fighters who take time to help the younger ones with their exercises and techniques.
In a feminized western world where single-motherhood is becoming the norm, and masculinity is consistently disparaged, you offer young men and boys not only the technical aspects of self-defense, but also valuable lessons in manhood – the vocation that God intended for them and one this nation desperately needs.
Each class my grandson attends reminds me that we made the right choice in coming to ATT Savage. ATT Savage, under your guidance, feels like home."
-Loren Pecore
Northfield, MN
---
"ATT Savage has been a great experience for our family for the past year. My wife, son and I have all been able to take away a great skill set for each of our needs. My wife has learned several self defense techniques while receiving a great workout. My son has learned the basics of self defense, stranger danger, striking, and many other real world values not usually taught at other martial arts schools.
My son is 6 years old and working out American Top Team of Savage has him a stronger sense of discipline, focus and self confidence. We have enrolled my son in a couple of other non mixed martial arts schools, but none of those schools ever took the time and patience that the instructors at ATT Savage took with training the kids. If anyone has a child that has an abundance of energy and needs an outlet to focus that energy, you cannot go wrong with this school.
Personally, I have enjoyed the classes immensely. I have learned many self defense techniques as well as offensive techniques in Jiu-Jitsu and Muay Thai kickboxing. ATT Savage always makes sure you get the maximum workout and your money's worth…
ATT Savage truly offers a great experience for all ages, levels, and degrees of skill sets. The hours are flexible and every class was as good as the first as far as attention to details and workout difficulty. Unfortunately my family is moving to Georgia or we would sign up for another year without hesitation. I have inquired into other MMA gyms in Atlanta and every gym is almost twice the cost for the same benefits, and most will not even take the time to train kids under 12. The fact that ATT Savage does train younger kids in MMA is truly the greatest benefit, and definitely what I will miss most about his school."
-Good Luck, Rick Harmon
---
"I have trained off and on in Okinawan karate for 30 years. I have had some great instructors and have been associated with some very successful schools. American Top Team of Savage beats them all! I originally enrolled my two young sons and myself for the Brazilian Jiu-Jitsu to develop our ground defense but quickly discovered ATT's striking classes to be revolutionary as compared to our traditional karate training. The weight room, training equipment, kids play room and spacious mat area add to the tremendous value you receive as a member of the gym. Parents, please consider mixed martial arts for your children's protection because karate is not enough."
-Bryce, Brent and Tyler Jones
Prior Lake
---
"Watching MMA since I was 13, I never thought I'd actually compete in it let alone win a local championship. Having a place to train where I can also bring my kids is very convenient and fun for my entire family! Now go buy stuff at American MMA!"
-Austin Judge
UCS Lightweight Champion and KTK Featherweight Champ.
---
"American Top Team of Savage is a good place to get into great shape while learning self defense at the same time. The head instructor has a good sense of humor but keeps everyone on task when it's time to work. In the time I have been attending the school, I have improved greatly in cardiovascular and physical strength, I have a higher level of confidence and I feel good all around. Thanks ATT Savage!"
-Steve Marek
---
"As a police officer and someone with a background in the Martial Arts, the training at American Top Team of Savage is fantastic! Not only are you learning valuable self defense skills, you also receive a tremendous workout! The training is perfect for a beginner or someone who wants to expand their knowledge of fighting."
-Dan Michener
1st Degree Black Belt in Sansei Ryu Jiu-Jitsu
---
"Having enrolled our eldest son in a chain Karate School for 14 months, we were becoming very disillusioned with paying $100 per month for classes that seemed of only marginal benefit. We also had a younger son who was eager to start karate, but financially we had no way to swing tuition for two kids. Then we found American Top Team of Savage and signed up for a free week of lessons for the kids. Upon attending the first lesson we were immediately impressed with the practical content, passion, and energy of the teaching. The instuctors have a superior eye for detail, and they keep the children's lessons fun while commanding their attention and respect. We love the balance ATT Savage strikes between challenging the kids to do their best while simultaneously being supportive and encouraging to every child.
It was quickly apparent that in ATT Savage we had found the solution for both our concerns of our existing school-quality and affordability. Most importantly, ATT Savage provides the top quality education we felt we were missing, and as a bonus ATT Savage has set their pricing to be as family-friendly as possible.
I never thought I'd have the opportunity to take Martial Arts, but by signing up for a year, we were able to enroll our whole family for little more than we had been paying for our single child membership! My wife and I are having an absolute ball learning the wide variety of skill sets they teach.
As for our kids-they love the classes. Upon our enrollment, they enjoyed the classes so much they took 23 hours of lessons in 24 days. To translate that into class time from our previous school, this would have taken a minimum of 15 weeks to accrue the same 23 hours of class time!"
-Darian Gray
Savage, MN
---

"My daughter Myranda has been coming here for about one year. She has gone from hating phy-ed class in school and being the slowest in the class to loving it and being the fastest-even beating the boys! This class has made her stronger and more confident."
-Lori Sutter Fjelstad
Prior Lake, MN
---

"We started bringing our son to American Top Team of Savage about one year ago. We were merely looking for a Kenpo studio, however, we were, and continue to be, impressed with the instructors and the school. ATT's style of teaching and discipline has had a tremendous impact on our son's physical abilities and attention deficit issues. We have now enrolled our daughter in the program as well. Our kids are genuinely excited to come to class and learn new things. ATT's ability to connect with the kids is awesome. The balance of discipline and fun keep the kids enthused and encouraged. We cannot recommend American School of Martial Arts highly enough."
-Kyle and Cindy Elbert
Bloomington, MN
---

"We enrolled our 3 kids in American Top Team of Savage because we wanted them to know self-defense and to learn how to carry themselves with confidence. We have found that the classes have taught them more than what we had envisioned. ATT Savage reconfirms the same priciples that we try to instill in our kids: the importance of reading, education, goals, nutrition, respect, manners, etc, while teaching them the art of MMA. Our kids love the classes and have shown great strides in their physical strength and agility. We especially appreciate the instuctors 'can do' attitude. The lessons learned in ATT's classes are invaluable for any age.
-Mike and Paula
Shakopee, MN
---

"I am so impressed with American Top Team of Savage, I hardly know what to talk about first. I originally came to sign-up my kids, and ended up signing up the whole family! After the free no-obligation week, I could see that ATT's approach to instruction is exactly what I was looking for.
ATT Savage teaches a practical approach to self-defense by teaching the best techniques from a variety of complimentary Martial Arts. I could see that my kids and I would learn how to defend ourselves whether we were standing or on the ground.
I am particularly impressed with ATT's effectiveness teaching kids. Their approach fosters confidence, self-respect, self-discipline, respect for parents and teachers, leadership…and all with American traditions!
I am equally impressed with how the instructors have been mindful of my level of conditioning as well as personal limitations. When I first started, I was out-of-shape and still concerned about a 20 year-old physical injury. ATT Savage has incorporated the right level of conditioning and "work-arounds". To the credit of American Top Team of Savage, I am in the best shape I've been in for years!
Last, but not least, American Top Team of Savage is affordable! My whole family can train at ATT Savage for what it would cost just one person to train at other schools!"
-John Andrzejek
Savage, MN
---

"Things have been going great since I started at ATT Savage. I have been getting INTENSE but fun workouts and it is really starting to show. Not only that but I am learning very practical ways to defend myself in real world situations. My step-son joined with me and things are going great for him. We were able to do something fun together and we were able to take him off meds for ADHD for the last two months of school with no regression in focus or concentration."
-Mark Madsen
Savage, MN
---

"The instuctors are great because they are passionate about the Martial Arts. I know it can be tough to get yourself to walk through the door, but if you're at all curious about the Martial Arts, you will not regret visiting ATT Savage"
-Clay Johnson – police officer
---

"If you are looking for an excellent cardio workout and practical self defense, this is THE place to go!"
-Kevin Bohnsack
Savage, MN
---

"With the training I received here, I was able to win my first fight in the cage. The classes and workouts are phenomenal."
-Brett Clarke
Shakopee, MN
---

"It's more than a good workout, it gives you strength, self esteem and discipline. Sometimes even an American history lesson. It's also a place where a child can learn values, positive attributes and self defense as well as being affordable."
-Melissa Harwood
Richfield, MN
---
Visit our other site for additional info!
---
Beware of Fitness Kickboxing! Click here to find out why!
---
American School of Martial Arts provides superior martial arts instruction and training in Brazilian Jiu-Jitsu, Muay Thai, Boxing, Wrestling, Self Defense and Mixed Martial Arts to the Minnesota communities of Eagan, Burnsville, Apple Valley, Lakeville, Farmington, Eden Prairie, Edina, Savage, Prior Lake, Jordan, Belle Plaine, Chaska, Shakopee, Bloomington and throughout the Minneapolis-St. Paul Twin Cities area.